I

n the past I've had a couple of individuals ask if I'd give them a hand with picking out paint colours, deciding what furniture pieces to throw into their rooms, how to arrange this pieces, etc. One friend even went as far as to say that she thinks about me when she's buying stuff for her place (I secretly love knowing this fact).
I have to tell you - I love creating spaces! While some people find the process of putting a room together scary and overwhelming, it's one of my favourite things in the world to do.
However, that said, I don't have a lot of guinea pigs to let me play "Designer Dan." Therefore, for the fun of it, I've decided that from time to time I'm going to put together some mock-ups showing you how I would decorate and furnish a particular space.
I'm going to keep it easy for the this first WWDD room -
A boring, run of the mill bedroom. This room really doesn't look like it has that much going on for it, other than some shiny hardware floors. Basically a blank canvas of sorts. Where to begin?
Followed by a snazzy off white like 'Bisque', also from Sarah's Para collection for all of our trim work.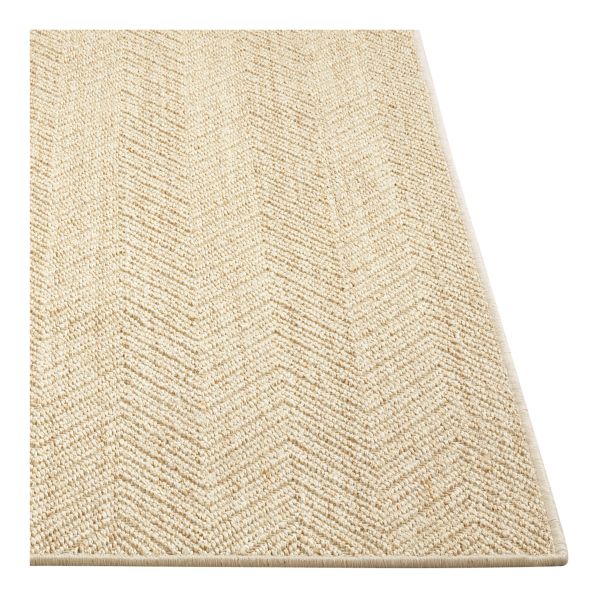 Next, I'd throw in a rug - say something like this classic looking chevron rug from Crate & Barrel. When it comes to hardwood floors, I say throw on the rugs. There are the purists that are like "you're covering up the floor." But then are the realists that are like "hardwood flooring is !%$# cold when you crawl out of bed on a January morning." I'm with the second group of people. It's bad enough that it's dark, let alone having cold feet. Oh yah, it's important to make sure that your rug is large enough that it gives you ample landing space when you're hopping out of that bed. The last thing in the world that you want to see is a rug that looks like it's being eaten by your bed. Speaking of beds & headboards - we need to find one. Say something like this guy -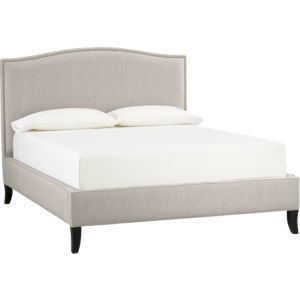 I really like the ornate feel of this beautiful bed from Crate & Barrel. It's classic, without looking stuffy. The gray linen finish keeps it fresh, as do the brushed pewter nail head trim. I say we add it to our room!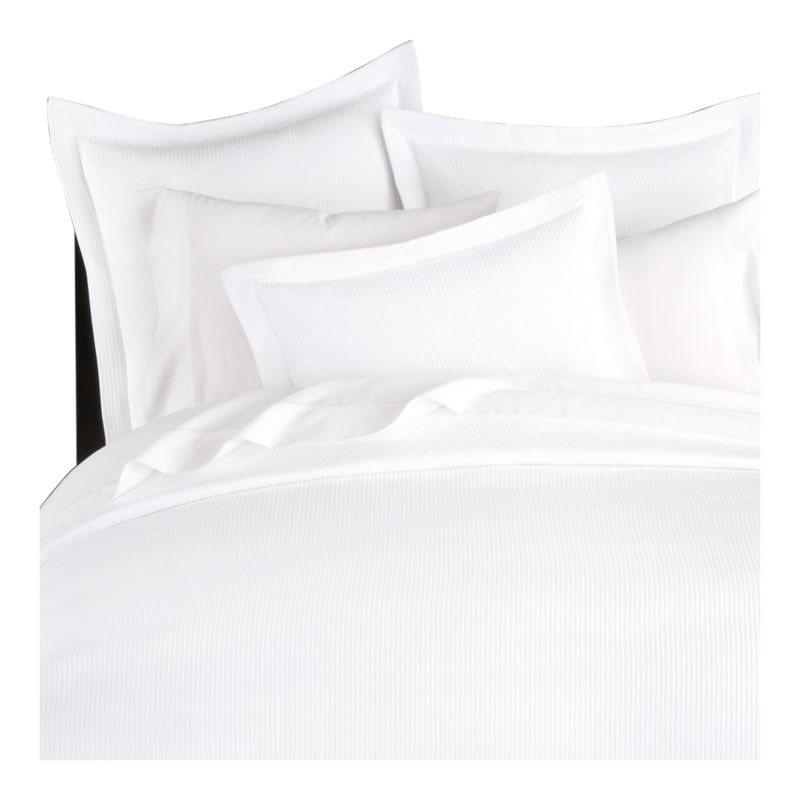 Every good bed needs an equally good set of bedding - like this cushy duvet set also from Crate & Barrel.
Why not add a bit of fun and colour with some ikat cushions? I can't get enough of this print!
Or, find your own fabric like this beautiful print from Thomas Paul and create your own cushions?
If you're like me, you read in bed, so it's important that we have some good lighting so that we can flip through Tolstoy, Robert Lewis Stevenson, or those tabloids that we claim we don't read. I love the look of the wire ball lamp from Sears....it's all about the details.
And since we've come up with some lamps, we're going to need something to put them on. I say we go with pieces from the 'Ashton' collection at Pier 1. These guys have girth and hiding sports for all of your knickknacks (and those tabloids that you don't want anyone to find).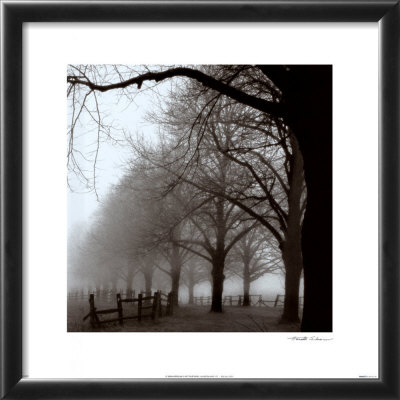 While you're going to be spend the bulk of your time in your room sleeping, I feel that it's important to surround yourself with beautiful art wherever you are. For this room, I love the idea of finding a series of prints to hang above the bed. Or, if you're like me and don't want to shell out the cash, hit up your local Dollarama, Zellers or Value Village for frames that can house your own prints. Frame something that inspires you - pictures of your kids, travel prints, scenes of your favourite place. The opportunities are endless. It's all about you (and maybe a little bit about your partner). Going up shortly in my own room are prints from a recent trip to Mexico. I can't wait to share!
Hmm....what else do we need?!
Candles! They make any room feel personal, cozy and like your own little sanctuary. I love the scent of the Warm Vanilla Sugar candles from Bath & Body Works.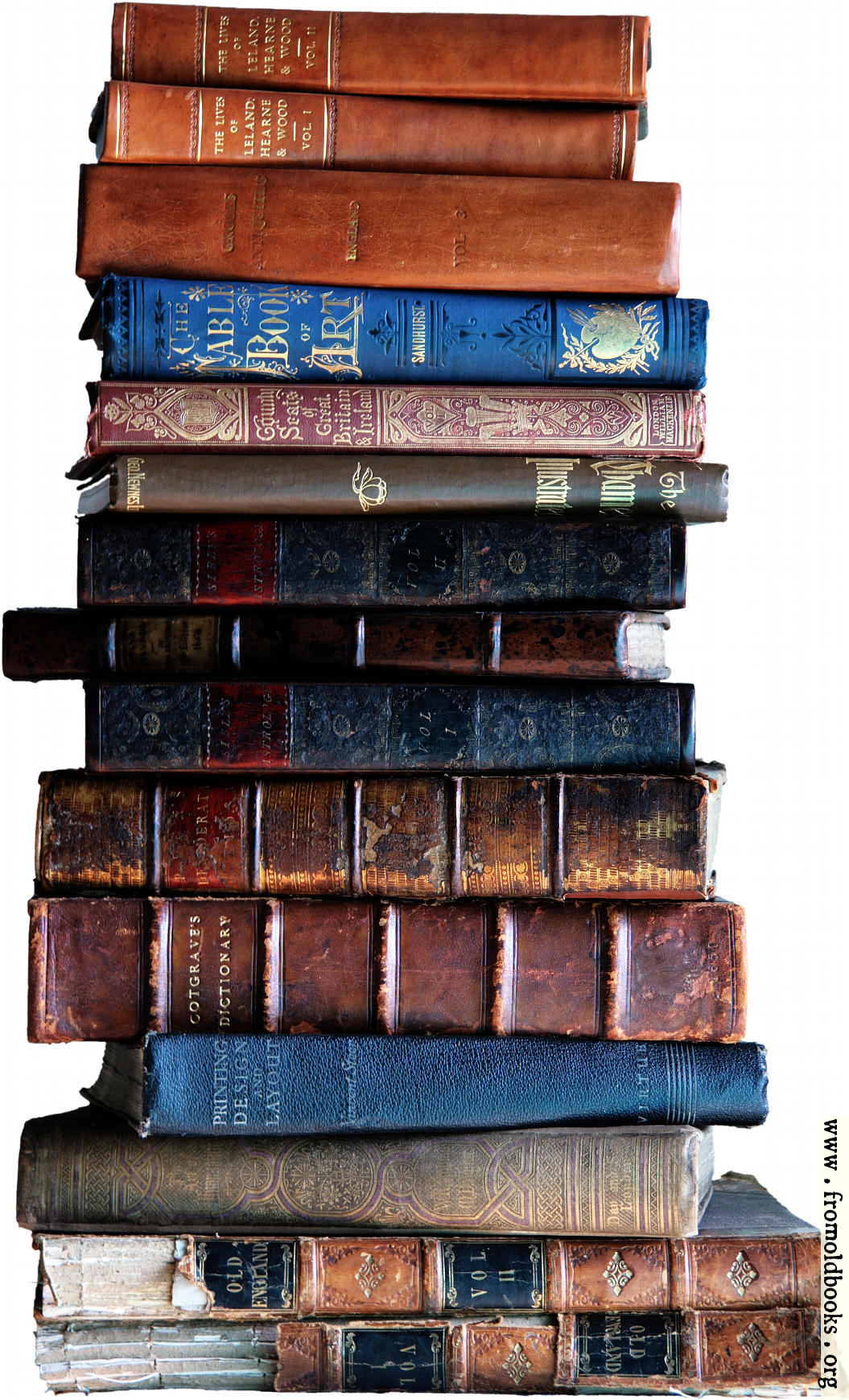 Stacks of books (or trashy tabloid magazines) to inspire you!
What else could we add into this bedroom to finish it off?
-A few silver frames with pictures of your loved ones?
-A potted plant, or fresh flowers? I'm not big on potted plants in the bedroom, but do love flowers.
-A fuzzy white robe...who doesn't love a good hotel style robe?
The opportunities are endless! It's all about what makes you happy and comfortable!